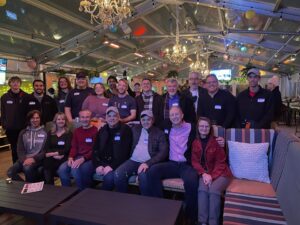 Doing, Not Dividing
The Forward Party stands for doing, not dividing. That means rejecting the far Left and far Right and pursuing common ground.
Three priorities will unite our broad coalition and serve as the springboard for policymaking by candidates and leaders at all levels: vibrant democracy, free people, and thriving communities.
Democracy at the Ballot Box
We are supporters of Ranked Choice Voting, Approval Voting, Open Primaries, and other systems of giving our voters more and better choices at the ballot box. More and better options is always better than poor choices.
Not Left. Not Right. Forward.
We support letting candidates develop their own political beliefs, as long as they are committed to civility, openness to innovative ideas, and the respectful exchange of opinion. Good candidates create good elected officials, which create good policy.
We Love MATH
We love MATH. Bring us your research and we'll review it without preconceived notions. In a participatory democracy, it's critical that we support Making America Think Harder about policy choices.
Non-partisan Primaries
Nonpartisan primary elections aim to create a more inclusive and diverse political landscape. By encouraging broader participation, reducing polarization, and promoting candidates who appeal to a wider range of voters, these elections play a significant role in shaping democratic processes.
Moving Forward
We are proud to support Forwardists, Democrats, Republicans, Independents, and anyone else running for office who is as committed to our core principles and democracy reform efforts as we are.
If you're committed to these values and policies and you want a Forward Party endorsement, click here.
---